What is a retractable pool enclosure?
A retractable pool enclosure is a type of structure that can be used to cover and enclose a swimming pool or a swim spa. It is typically made of an aluminum frame with transparent or insulated glazing that forms large sections (modules) that can be opened and closed as needed. The modules can be manually or mechanically operated, and are designed to roll or slide open and closed. Largest module is typically equipped with sliding doors allowing you to easily access the pool when you want to use it and protect it when it is not in use. Retractable pool enclosures can be used to extend the swimming season, protect the pool from debris and animals, and provide additional privacy and swimming pool security.
See the different pool enclosure options and designs
Why should pool owners invest in a retractable pool enclosure?
Extending the swimming pool season: A retractable pool enclosure helps to extend the swimming pool season by providing a warm, protected space for the pool. This can be especially useful in climates with cooler temperatures or inclement weather. Pool enclosure simply makes it more comfortable to swim in the pool during cooler months, or on days when the weather is cloudy or rainy.

Protect the pool: Retractable pool enclosures help to protect the pool from debris, leaves, and other contaminants that can accumulate in the water. These enclosures can also keep out animals and pests that might otherwise enter the pool area and water.

Increase privacy and security: A retractable pool enclosure provides additional privacy and security for the pool area. This can be especially important for homeowners with young children, pets or those having a high level of foot traffic in their backyards or around the swimming pool.

Save money: A retractable pool enclosure can help to reduce the amount of water and chemicals needed to maintain the pool, which can save money over time. It can also reduce the need for pool covers, which can be expensive to purchase and maintain.

Increase property value: A retractable pool enclosure can add value to a property by enhancing the aesthetics of the pool area and providing additional functional space.
Retrofitting existing swimming pool with new pool enclosure
Having an existing swimming pool, what does it involve to install Albixon retractable pool enclosure?
There are no alternations required to your existing swimming pool. Depending on your deck, there are only specific requirements on the area where the pool enclosure rails will be installed. The concrete sub base (concrete footing) for the rails (enclosure tracks) has to be strong, thick and even enough in order to assure smooth pool enclosure operations when retracting. We provide the contractors with all the required information and specifications for the job based on the selected model and dimensions of the retractable pool cover. We make sure that our staff or trained dealers visit our clients' sites before the purchase and before the install of the retractable enclosure. By doing so, we make sure the site specifications are clear and the site is ready for the installation.
Can you swim in a low pool enclosure?
Isn't the ALBIXON low enclosure too small?
The lowest pool enclosure model is 32 inches (80cm) low, but it gives you 7 feet (220cm) of height for swimming in a swimming pool that is 4 to 5 feet (140cm) deep. It is more than enough for swimming all year round. Meanwhile, the roof will be open most of the usage time in the warmer months as the inside temperature can be up to 50°C due to present greenhouse effect. The advantage of low enclosure are the aesthetics, often lower price and less square footage requirements. In Europe, the trend is towards as low enclosure as possible. Please contact us at Albixon Canada to see one of our sample installs of in your area to fully understand the space that is available from the low enclosure models.
Does condensation occur inside of the pool enclosure?
Very common question that we hear - What about condensation in the enclosure, how do I get rid of it if it occurs?
Condensation as well as vaporization occur as a natural effect that cannot be eliminated without air circulation. It is required to open the enclosure for 10 to 30 minutes every day in order to ventilate fresh air and get rid of the condensation effect. The polycarbonate is treated with special layer allowing the drops to fall and slide down easily. With twin-wall polycarbonate, it is recommended to keep the pool enclosure open for up to 2 hours in order to clear the drops from the infill.
Enclosure glazing and scratches
Can the enclosure get scratched?
Yes. Used materials – certified polycarbonate and structured aluminum are very resistant, anti-corrosive and durable materials; however, similar to cars, pool enclosure can get scratched. Eventually, non-scratching polycarbonate can be applied for extra cost, however, it is not a common add-on.
I have no place for the rail extensions, what are my options?
The front pool enclosure panel can be custom made to make it removable. After removing the front panel, the enclosure will stay open in the front and it won't shorten your pool.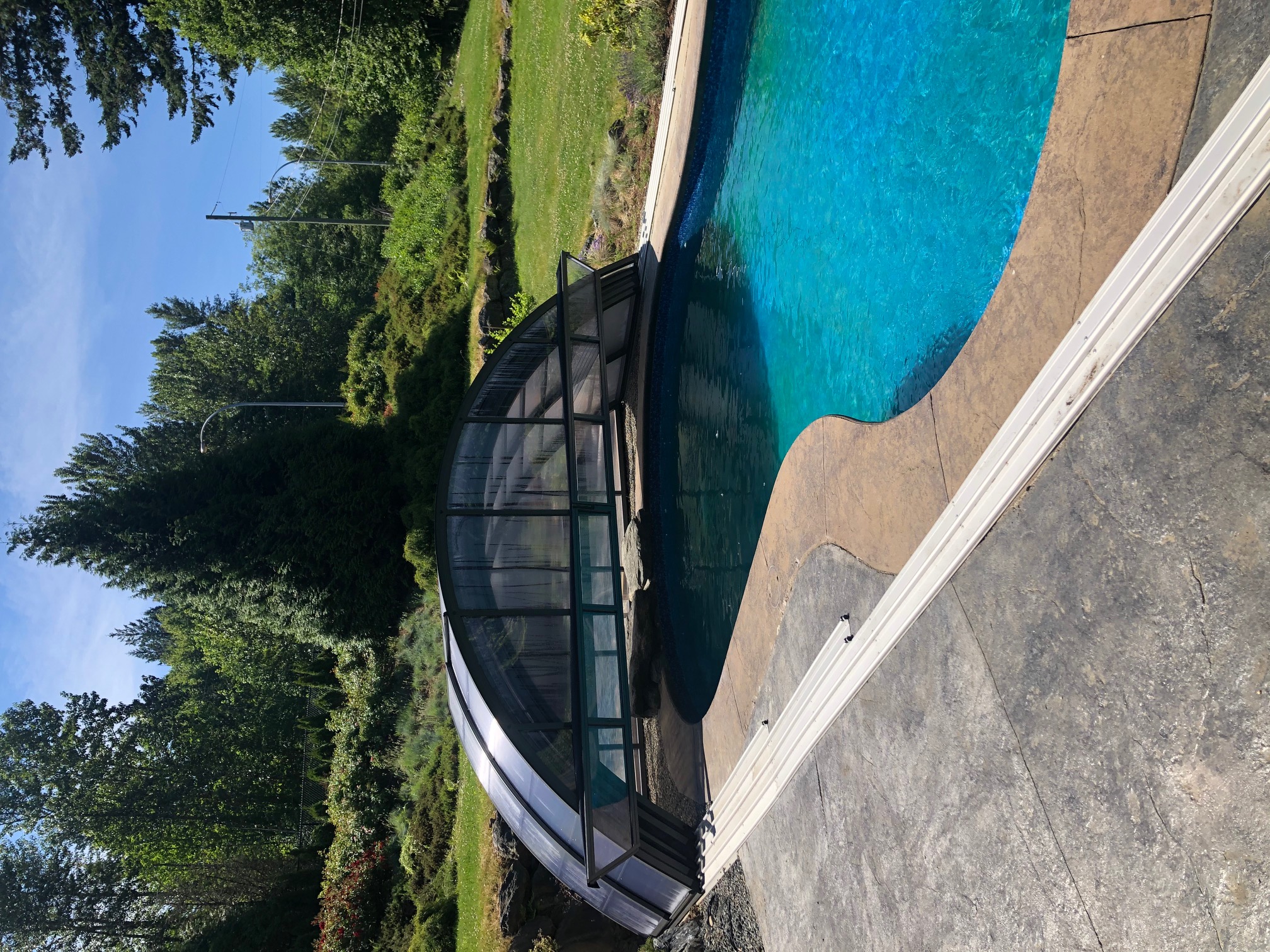 Is it possible to have tinted or opaque infill in the enclosure roofing?
Yes. It is possible to pick different colours as well as opacity of your future enclosure. The price will differ from the standard solutions, but it will give you full privacy when using your swimming pool with closed enclosure.
How does the Albixon retractable enclosure work?
The enclosure modules have solid wheels which can easily slide on the tracks. Applied system of rails and wheels with advanced ball bearings allows very smooth operation of the enclosure making it easy to open or close without use of any additional equipment or motor. As each panel has own track, it allows to move the modules independently and open the pool either completely or just partially in any position. In most cases, an electric sun powered motor - Moover - for automatic opening of the enclosure can be applied upon request.
Does the swimming pool enclosure help to keep my kids and animals safe?
Yes, because the pool enclosure comes with safety locks. Also, the material used is very durable protecting your kids or pets to fall accidentally into the swimming pool. Albixon is the only manufacturer of swimming pool enclosures to receive NSF safety certification in the world! You can read more about the swimming pool safety here.
What are the main benefits of the swimming pool enclosure?
The benefits of Albixon retractable pool enclosures include safety, extending your swimming season, water purity, reduction of your costs of water treatment chemicals and water heating, and saving hours of your precious time spent on pool water cleaning and swimming pool maintenance.
Is it possible to make a custom made pool or patio enclosure ?
Yes, with our range of enclosure and retractable cover products, it is possible to make almost any custom enclosure to fit your covering needs.
May I use the pool enclosure all year round?
Yes, you can use your retractable pool enclosure all year round in most of the location in Canada.
In general, retractable pool enclosures offer the flexibility to open and close the enclosure as needed, allowing you to enjoy your pool in any weather condition.
Ultimately, the usability of your pool enclosure depends on your personal preferences, the specific features of your enclosure (type of glazing), and the climate in your area. We will be happy to consult all the options and features available to make your swimming pool a year round joy!


Can I mount the enclosure against my house wall?
Yes, we have some types of retractable enclosures which can be mounted on the wall. However, the requirements on the preparation of the site are more demanding. Also, mounting the enclosure on the house can be considered as a house extension by local authorities. Contact us for any assistance or more information on how to proceed when planning to attach the enclosure to the house.
How do I take care of the ALBIXON enclosure?
The Albixon enclosures are not demanding for maintenance. If needed, they should be washed only by water using garden hose. After the winter time, we recommend cleaning the enclosure with soupy water if it is very dirty. Please don't use any chemical products to clean your pool enclosure.
What could happen if the wind is very strong?
The enclosure is equipped with special wind hooks so you don't have to worry about wind. Different models are recommended to our clients based on their geographical location and local structural requirements. Models differ structurally by using different sizes of profiles and most importantly different quantity of aluminum in the profiles.
What´s the difference between compact glass and twin wall polycarbonate?
Twin wall polycarbonate is made of two panes which means better insulation of the pool enclosure. Compact glass is made from one thick pane making the polycarbonate sheet transparent as glass.
What´s the minimum size of one module?
The minimum module size (in length) is 4'9″. If it is a smaller module than 4'9″ it could disrupt the fluent moving. The standard size of a section is 7'2″.
What´s the enclosure made of ?
Albixon enclosure is made of 100% safe aluminum and 100% polycarbonate supplied certified manufacturers from Europe. None of our components is imported from China or non-EU countries except anchoring screws for the rails that are made in Switzerland.

How long does it take to install an enclosure ?
The installation of the standard Albixon pool enclosure takes around 12 hours for four people. Custom enclosures take up to seven days, however the enclosure can be pre-assembled in advance at our facilities making the final installation much shorter.
What´s the warranty and guarantee of the enclosure?
All our products come with above standard warranty. Our suppliers of the components from Germany give up to 10 year warranty on their materials. The quality of the products is guaranteed by using only certified suppliers of materials from Europe as well as certified production in the most modern facilities.