Key
benefitsbenefits
Extended
pool season
Extended
pool season
Not only do enclosures provide protection from outdoor weather conditions such as wind and rain they also create a greenhouse effect that increases water and air temperatures. This can extend the pool season by at least 3 months and in many cases pools can be heated year round.
SAFETY FOR CHILDREN
AND PETS
SAFETY FOR CHILDREN
AND PETS
Albixon retractable covers were originally developed as a safety enclosure. Protecting your family, pets and animals from accidental drowning is their primary purpose.
CLEAN WATER WITHOUT
LEAVES DUST OR INSECTS
CLEAN WATER WITHOUT
LEAVES DUST OR INSECTS
Albixon retractable enclosures completely encase your pool blocking leaves, dust or insects from polluting the water.
HIGHER WATER
TEMPERATURE
HIGHER WATER
TEMPERATURE
During the day Albixon retractable enclosures create a greenhouse effect that can, on average, increase water temperatures by 10 degrees C. Enclosures will also reduce nighttime temperature loss.
LESS
CHEMICALS
LESS
CHEMICALS
Albixon retractable covers prevent UV rays from reaching your pool water preventing algae growth. No rainwater means your pool water will maintain a stable PH level reducing your need to add chemicals.
Our
PRODUCTSPRODUCTS
WHY ALBIXON
POOL ENCLOSURES?WHY ALBIXON
CERTIFIED SAFETY
As well as complying with strict safety certifications from Germany and France, Albixon is currently the only manufacturer of pool enclosures in the world that complies with the North American standard for pool safety - NSF.
CERTIFIED STRUCTURAL
COMPLIANCE
We don't talk about it, we prove it! Our retractable enclosures are reviewed by certified structural engineers and proven in the harshest environment.
LATEST FEATURES
& COLOUR OPTIONS
Albixon retractable pool enclosures combine form with function adding an elegant and modern feature to your landscape design.
CUSTOMER SERVICE
& DEALERS NETWORK
We value our customers and business partners. We provide free consultation and support before and after enclosure installation.
How
it works?How it works?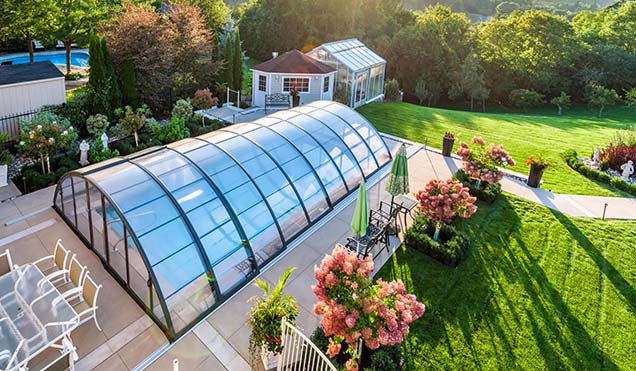 Fully enclosed
swimming pool
When the enclosure is fully retracted over the pool you maximize all the benefits: safety, minimizing heat loss, keeping debris out of the water, UV protection, greenhouse effect,...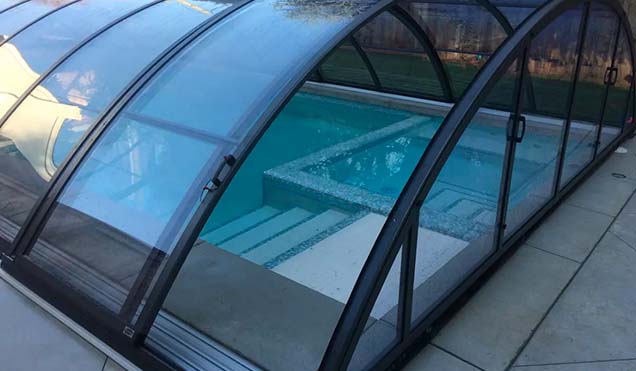 Large side
sliding doors
Locating large sliding doors in the biggest module allows you to enter your pool in any weather without the need for retracting the enclosure away from the pool.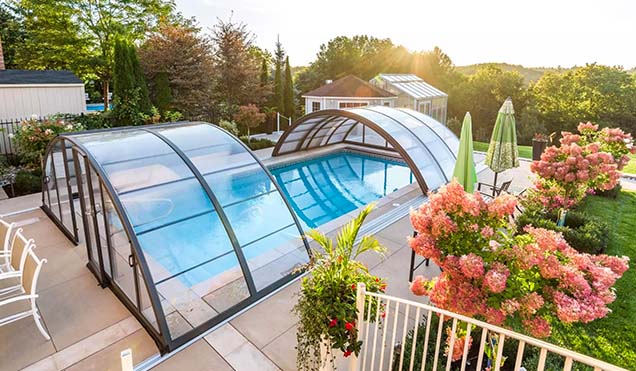 Partially opened
enclosure sections
Partially opening the pool enclosure allows easy access for pool maintenance, air ventilation, or usage of a particular part of the swimming pool without fully opening the structure.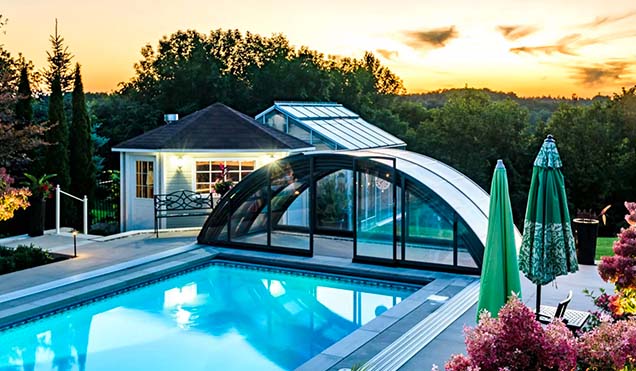 Fully opened
swimming pool
Enclosure modules are stacked under each other to take up minimum space and extra tracks are installed past the pool allowing the enclosure to be fully retracted away from the pool.
ALBIXON POOL
ENCLOSURES INSTALLSOUR INSTALLS
Check our
newsCHECK OUR NEWS